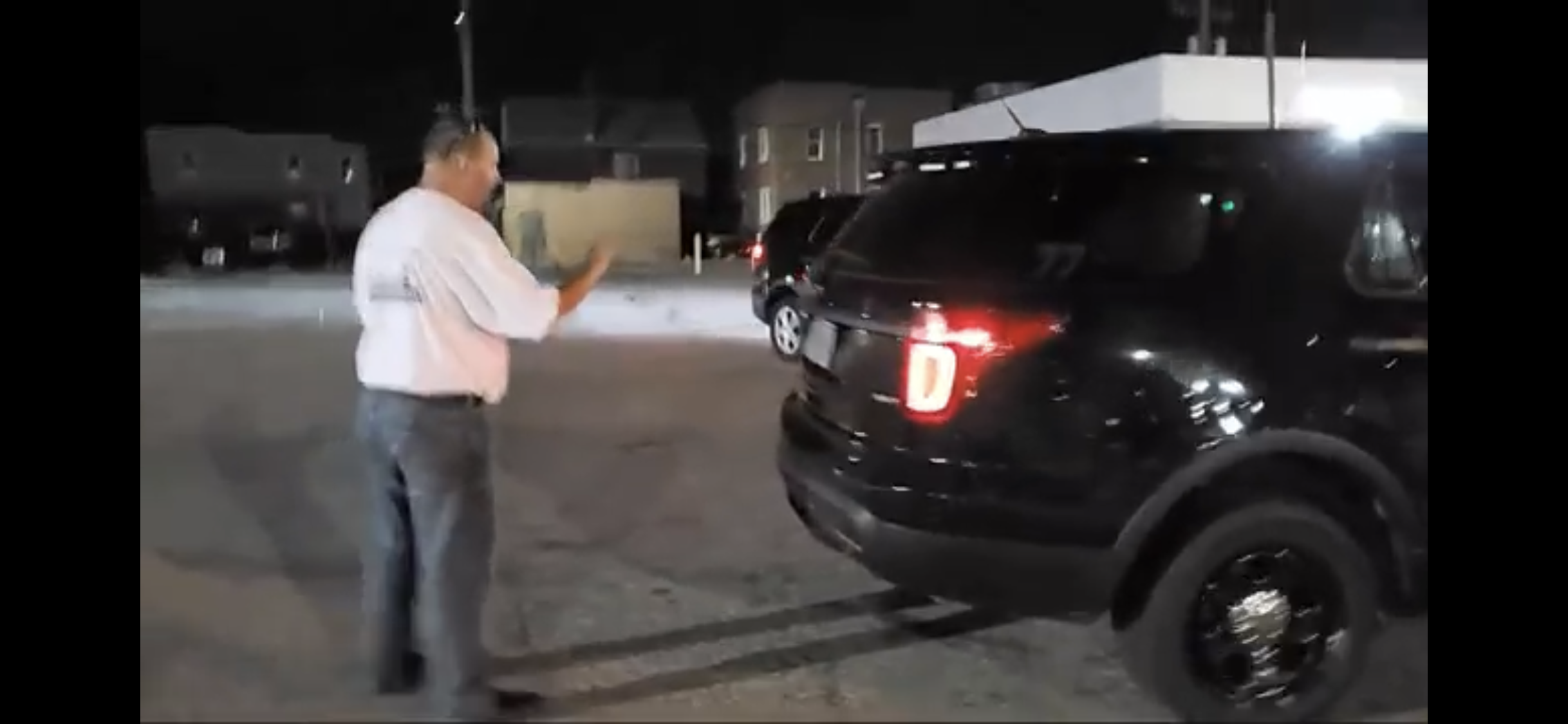 Cop Block "Auditor" Cries After Arrest For Harassing ECPD In Video
The East Chicago Police Department is committed to being transparent and ensuring the public is aware of major police incidents in the city. The ECPD are also committed to releasing statements as quickly as possible once all information has been gathered and investigated. The following statement and release is regarding the edited video that has been circulating on social media regarding an officer from The East Chicago Police Department. Furthermore, we at RNS would like to nominate this Congressional Candidate for an Academy Award for the great acting.
On July 26, 2020 at approximately 1:11AM Officer K. Cook had just cleared the scene of a multiple vehicle accident and was headed to the police department to complete an accident report. Before getting to the department he observed a group of white males in the parking lot of Subway located at 2204 E. Columbus Drive waving him down. Officer Cook believed the males were in need of assistance, so he pulled into the parking lot in an attempt to assist the males. As Officer Cook pulled into the parking lot several males ambushed and surrounded his squad car and began to yell and scream profanity in a loud, aggressive and boisterous manner toward him. Officer Cook advised the men to quiet down and lower their voice, but they refused and continued surrounding his vehicle while yelling profanity at him in a loud and boisterous manner.
While yelling profanity at Officer Cook one of the males later identified as Edward M. Strauss of Laporte, Indiana threatened to do bodily harm to Officer Cook. Officer Cook went to place Edward M. Strauss under arrest for intimidation on a Law Enforcement Officer. Strauss physically resisted Officer Cook, by locking up his hands and refusing to obey officers commands. During the struggle Edward M. Strauss intentionally wrapped his legs around Officers Cook left leg while applying pressure to Officer Cook's left leg. Officer Cook could be heard on video screaming in pain, due to the leg lock Edward M. Strauss had him in. Officer Cook then used the force necessary to get Edward M. Strauss to release the leg lock he had on him. Once the leg lock was released Officer Cook immediately stopped using force and placed him under arrest.
Edward M. Strauss was charged with Intimidation of a Law Enforcement Officer, Resisting a Law Enforcement Officer, Battery on a Law Enforcement Officer and Disorderly Conduct. Edward M. Strauss has a criminal history that involves trespassing, resisting arrest and invasion of privacy. He is also known to various law enforcement agencies for his harassment of police officers under the disguise of an auditor.
After the arrest Officer Cook was sent to St Catherine Hospital due to extreme pain to his left leg and knee. He has not been medically cleared yet to return to work, due to the injury he sustained from the confrontation. Officer Cook has also been placed on administrative leave while an internal investigation is completed. The East Chicago Police Department is committed to completing a thorough investigation of this incident. VIDEO OF INCIDENT LINKED BELOW ALONG WITH STRAUSS FACEBOOK PAGE. Many videos on his sites show him harassing numerous departments in hopes for conflicts.

Strauss Indiana Congressional Candidate Page
https://www.facebook.com/1sutforliberty/
Please follow and like us: