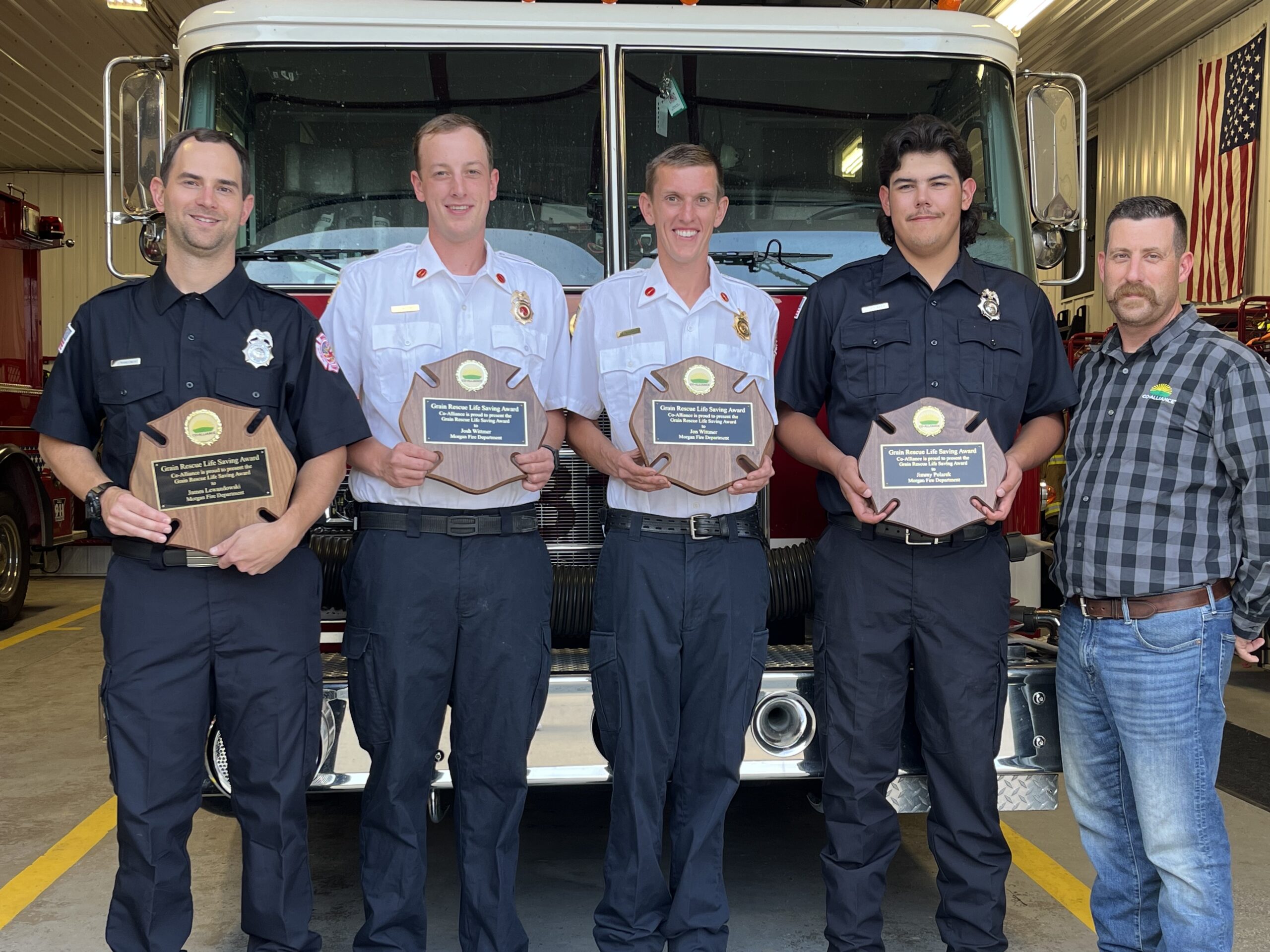 Four Firefighters Recognized After Grain Bin Rescue
Indiana-based agriculture & energy cooperative Co-Alliance Cooperative has recognized members of the Morgan Fire in Porter County for their recent life-saving actions.
The four members recognized were part of the entry team that worked inside a grain bin for 2-1/2 hours to rescue a victim earlier this year. There were also teams of responders outside the bin who were the supporting the crews inside by moving grain away from the man door and move equipment needed for the crew inside.
In early March Kouts, Morgan, LaCrosse, Crown Point, Hobart, Lowell, and Merrillville firefighters, along with Indiana DNR Law Enforcement and Northwest Health EMS, worked together to help pull the man to safety that was engulfed in soybeans inside a grain bin. After 2 ½ hours of heroic work, he was removed with minimal injuries. Co-Alliance wishes the thank the many people on scene that day to save this life.
"Everyone worked together as one team to accomplish this great outcome. Thank you to every department that was able to assist us."
The Co-Alliance has worked to focus their community giving into three key areas which will benefit the communities which they call home:
Agriculture education & leadership – There is power in organizations such as 4-H and FFA that encourage, teach, and motivate the next generation.
Food security – The United States of America hasthe most abundant, safest food supply in the world; there is no reason why our neighbors should go hungry.
Agriculture & energy safety – Agriculture and energy are dangerous industries, and every day the cooperative works alongside their customers in both. Their mission is to train first responders, customers, and youth about the dangers of such occupations.
The latter proving its value in early March 2022.
Please follow and like us: