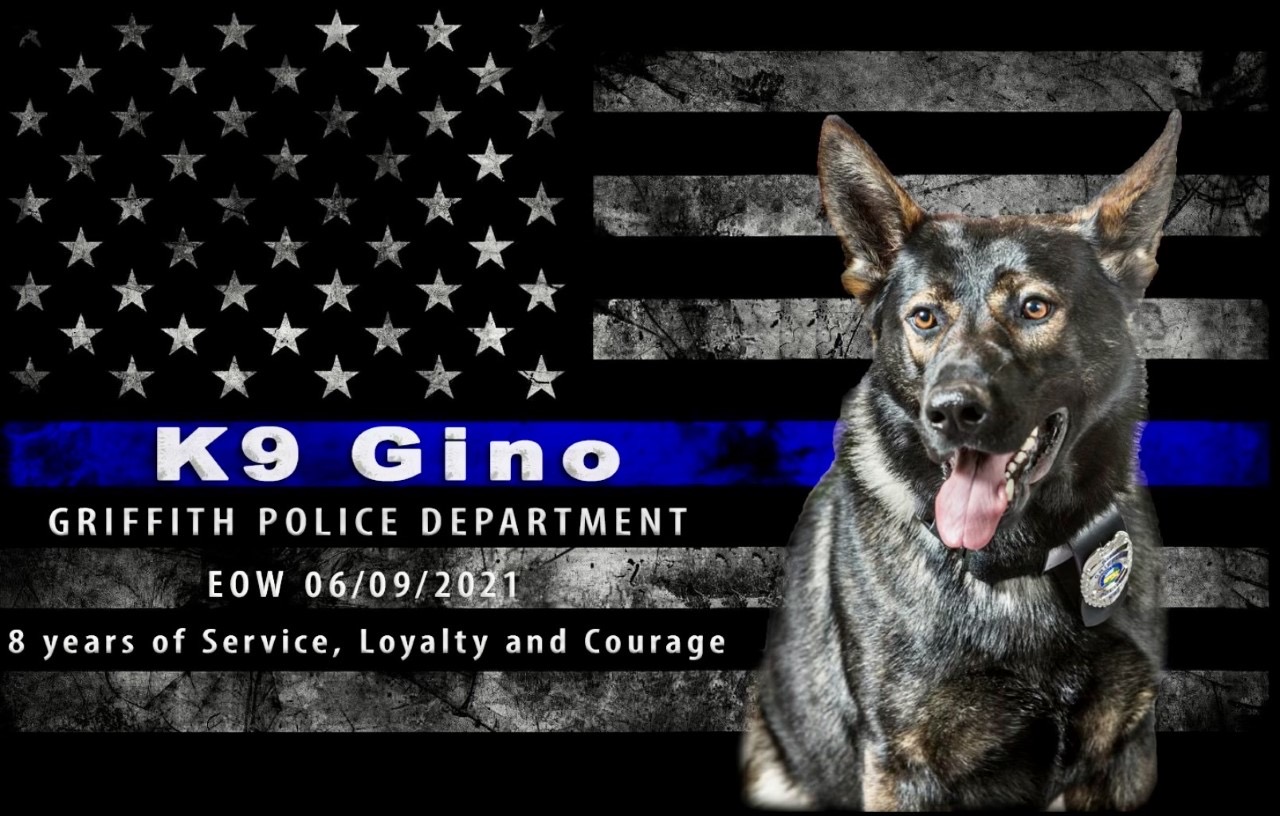 Griffith Police K9 Passes Away
It is with great sadness, the Griffith Police Department announced the passing of Gino, Griffith's first police K-9.
Gino had very recently been tentatively diagnosed with cancer and unfortunately succumbed to the sudden illness on the morning of Wednesday, June 9th. Gino was born on 11/21/2011, in Bergheim, France. On June 1, 2013, Gino was officially assigned to the Patrol Division of the Griffith Police Department.
Gino and his partner, Officer Robert Gutierrez, had formed a faithful bond, serving side by side for 8 years. Gino was responsible for numerous duties including successful drug detection, suspect apprehension, building searches, and other patrol duties. He also took part in numerous tracking operations of suspects and missing persons throughout the years, not only in Griffith but in other area communities as well. Gino was also a big attraction at public events for adults and children alike.
Gino and Ofc Gutierrez trained numerous hours together, among themselves and along with the local law enforcement K-9 community; but also set a positive example for the newest K-9 and his handler, and any future K-9 officers to come.
The police department and the entire Griffith community mourns the loss of Gino, as he was every bit a member of the community as his backers, who raised funds to purchase and continue to support him throughout his years of service.
"We were all saddened to hear that Gino has passed. Being Griffith's first k-9, Gino has set the bar very high and paved the way for our entire program. He will be missed by all and we offer our condolences to his K-9 partner, Officer Gutierrez and his entire family,"Griffith Police Chief Greg Mance said.
The Griffith Police Department thanked all of Gino's fans and supporters from throughout his years, and they offered their sincere condolences to Officer Gutierrez and his entire family.
Please follow and like us: