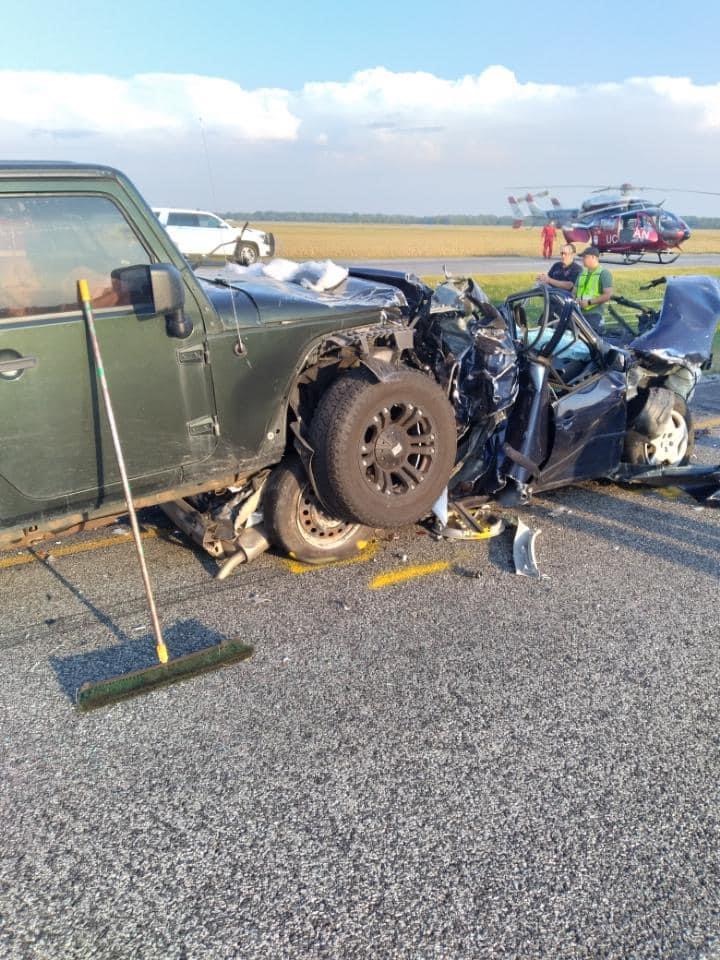 A Woman Was Killed On I-65 After A Secondary Crash
Tuesday afternoon at approximately 4:15 p.m., Indiana State Police Troopers were on scene of a vehicle fire on I-65 SB at the 232 mile-marker. Traffic was backed up for approximately five miles when a secondary crash occurred at the 237 mile-marker, according to Sgt. Glen Fifield. Responding troopers discovered a three-car crash had occurred resulting in one of the driver's being entrapped in their vehicle.
Preliminary investigation by Trooper Brian Runyon revealed that traffic had been slowing to a stop when a Green 2010 Jeep Wrangler, driven by Brian Swartz of Kouts, IN, rear-ended a blue 2007 Toyota at a high rate of speed.  This impact pushed the Toyota into a third vehicle, a 2005 Chevrolet truck driven by Brian Meyer, of Rensselaer, IN.  The driver of the Toyota, Emma Conner, 19, from Lafayette, IN, was entrapped in the vehicle.  First responders had difficulty removing her from the vehicle due to the severe damage to the Toyota as well as the Jeep having come to a rest on top of it.  Conner was conscious at the scene; however, she did sustain serious, potentially life-threatening injuries.  A helicopter was contacted and arrived on scene resulting in the northbound lanes having to be shut down.  Due to the patient's unstable injury status, she was unable to be flown and had to be transported via ambulance to Franciscan Health Hospital in Crown Point.
The woman later passed at Franciscan Health in Crown Point.
Assisting at the scene was UCAN (University of Chicago Aeromedical Network), Tri-Creek EMS, Lowell Fire, Jasper County Sheriff's Department, INDOT, and Cheever's Towing.
Alcohol/drugs are not believed to be a factor in this crash, Fifield said. This crash investigation is ongoing. Once concluded, all findings will be presented to the Lake County Prosecutor's Office for consideration of any charges that may be applicable.
Please follow and like us: