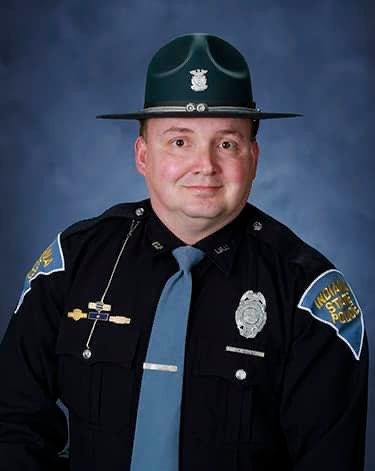 Indiana State Trooper Killed In The Line Of Duty
The Indiana State Police is mourning the loss of one of its own this evening as a result of a vehicle crash incident which occurred this afternoon on Interstate 69 south of Auburn. The crash claimed the life of Master Trooper James R. Bailey, 50, of Auburn, IN, who served with the Indiana State Police for more than fifteen years.
The preliminary investigation by the Indiana State Police indicates that at approximately 4:30 PM, Friday, Trooper Bailey was assisting other troopers on I-69 with traffic backup as a result of weather related vehicle crashes near the 326 mile marker south of Auburn.
At that time, Trooper Bailey became aware of an individual driving at a high rate of speed evading an officer from the Fort Wayne Police Department on I-69 approaching his location. Trooper Bailey attempted to de-escalate that vehicle pursuit by deploying stop sticks. Trooper Bailey was struck by the suspect vehicle and critically injured. Emergency medical care was rendered at the scene and he was rushed to a nearby hospital, where he succumbed to his injuries.
Trooper Bailey is survived by his wife, son, and daughter. Family notifications have been made.
"This is a tremendously sad day for the entire Indiana State Police family. We will band together as we always do in support of Trooper Bailey's family, friends and co-workers", said Indiana State Police Superintendent Douglas G. Carter.
The suspect driver involved in this incident, Terry Dewaine Sands II, 42, of Marion, IN, was taken into custody and has been incarcerated in the DeKalb County Jail on a preliminary charge of Resisting Law Enforcement Causing Death to Law Enforcement Officer, a Level 2 Felony.
This is still an ongoing investigation. All findings will be turned over to the DeKalb County Prosecutor for review and determination of any further charges that may be filed.
The Indiana State Police was assisted at the scene by the Fort Wayne Police Department, DeKalb County Sheriff Department, Auburn Police Department, DeKalb County EMS, Auburn Fire Department, and troopers from neighboring Indiana State Police Peru Post.
Please follow and like us: