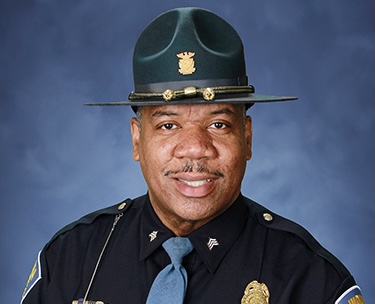 ISP SGT From Lake County Completes Career Milestone
Recently, Sergeant Dwayne Dillahunty was recognized for achieving 35 years of service with the Indiana State Police, according to Sgt. Glen Fifield of the Lowell Post.  He received his awards that consisted of a framed certificate and a special 35-year longevity pin to be worn on the uniform.  He was also awarded for achieving over 1.0 million safe driving miles over the course of his career.
Sergeant Dillahunty is a 1981 graduate of Gary Roosevelt High School. After high school he studied at Purdue University Calumet in Hammond, IN. He attended the ILEA (Indiana Law Enforcement Academy) in Plainfield, IN, graduating from the 43rd Indiana State Police Recruit School in 1985. On November 10, 1985, he was appointed as a Trooper to the Lowell District where he primarily patrolled Lake County. In 1992, he was promoted to District Detective at the Lowell Post. During his tenure as detective, he investigated several police action shootings, a majority of which took place in Lake County, as well as other major case investigations. He also conducted numerous background investigations. In 1999, he was promoted to Corporal at the Lowell District where he served as the District's Administrative Duty Officer. As a Corporal, he also served as the Indiana State Police Department's liaison to the Indiana Department of Corrections. In 2010, he was promoted to Squad Sergeant at Lowell where he continues in that capacity and serves as a Field Training Officer. Sgt. Dillahunty was one of the first Hostage Crisis Negotiators to be trained and assigned to the Lowell post around 1990 and continued in that role for 20 years before recently resigning from that role.
Sergeant Dillahunty resides in Lake County.
Please follow and like us: