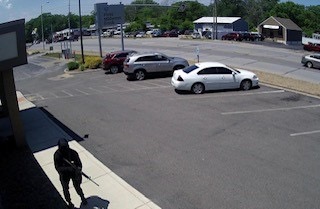 One Suspect Just Taken Into Custody In Bank Robbery
Late this afternoon, Lake County, Indiana Sheriff's Department officers took one male suspect into custody in connection with the shooting death of a security officer at the Midwest Bank at 1975 W. Ridge Road in Gary.
Earlier today, 2 male subjects armed with a handgun and a rifle and apparently ambushed the security officer.  The officer was shot and killed outside of the bank.  It's believed the suspects then entered the bank and demanded money. The security officer working the bank has now been identified as Richard Castellana, 55, of Tinley Park. Sources have told RNS Mr. Castellana is a retired Cook County Sheriff employee.
"We're saddened to hear about the tragic passing of our former Deputy Sheriff, Richard Castellana," Cook County Sheriff's Department tweeted. "Deputy Castellana served Cook County for 35 years until his 2019 retirement." "He will be missed by his colleagues & friends. We send our deepest condolences to his family & loved ones."
Lake County Sheriff's Department police officers were dispatched to the area and secured the scene. They also used K-9 units to track the last known locations of the suspects, according to witness statements.
The FBI have now taken over the investigation. The Lake County Sheriff's Department will assist in whatever way we can in bringing these suspects to justice.
"I would like to offer my deepest heartfelt condolences to the family and friends of the security officer who was killed," Lake County Sheriff Oscar Martinez Jr. said.
Please follow and like us: