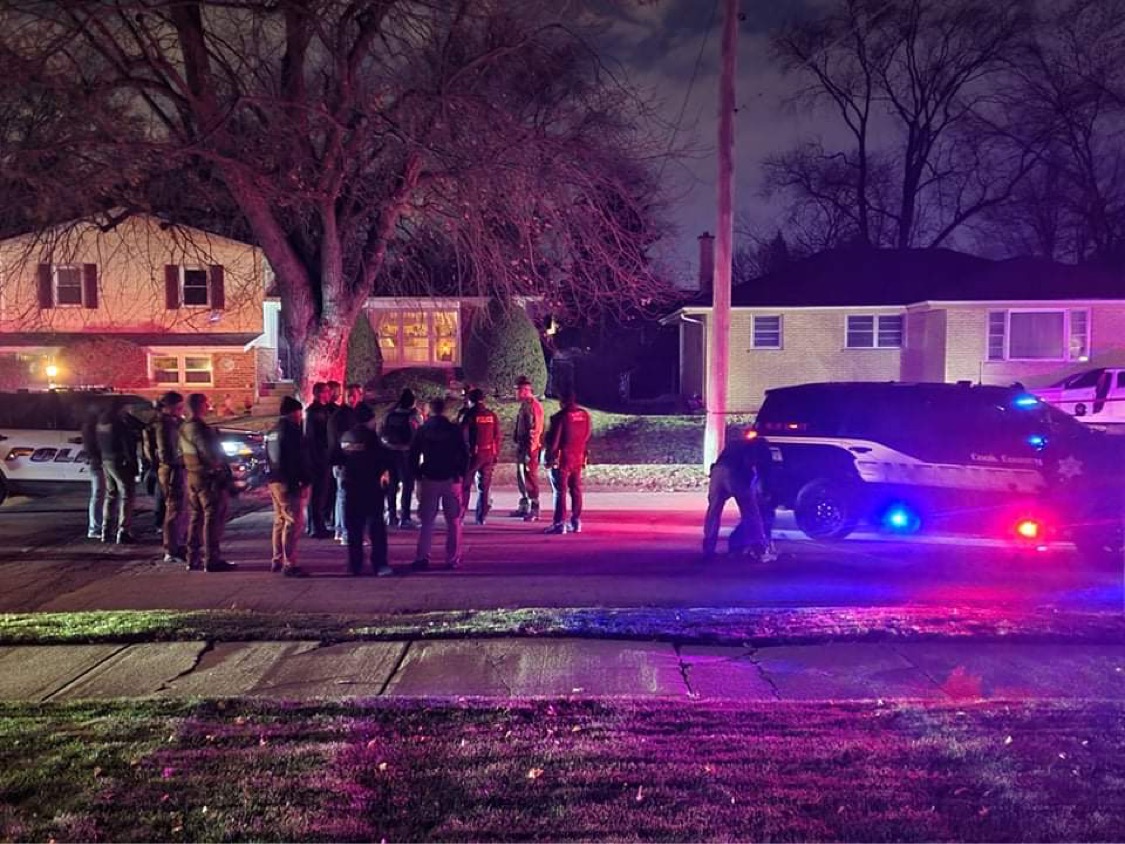 Police Learn Lansing Manhunt Was Not Connected To CPD Shooting
On December 1st, at approximately 8:40 p.m., Chicago Police Officers exchanged gunfire with suspects in the area of 92nd Street and South Stoney Island in Chicago. One Officer and one suspect sustained gunshot wounds during the incident. During the course of the investigation, Chicago PD units and a helicopter began pursuing a white Infiniti that was believed to be involved in the shooting southbound on Interstate 94 towards Lansing. Multiple police agencies assisted CPD during this pursuit. Lansing Officers joined the pursuit when the Infiniti exited southbound Torrence Ave from the expressway. The vehicle continued southbound into a subdivision west of Torrence Ave.

The vehicle stopped in the front yard of a house in the 2300 block of 184th Place. Multiple occupants fled from the vehicle on foot and the driver was apprehended. Officers were not able to locate the passengers, police said. A firearm was recovered from the vehicle and the Infiniti was found to be reported stolen out of Chicago.
Blake Williams the driver, age 22, appeared before Cook County Judge Susana Ortiz, who set bail at $250,000. Williams, who was charged with unlawful use of a weapon, receiving or possession of stolen motor vehicle and misdemeanor fleeing or attempting to elude police, was also ordered on electronic monitoring, Chicago Police and prosecutors said. Williams, who was out on bond for an aggravated vehicular hijacking charge, is also on probation for a misdemeanor charge of carrying or possession of a firearm, prosecutors said. Before setting bond, Ortiz cited the fact that Williams was out on bond for a "violent crime," and he presented an "extreme danger to the community."

Officers from multiple jurisdictions, including several K-9 units, established a perimeter in search of the fleeing suspects. After an extensive three-hour search, it was determined that the offenders were no longer in the area.
As the incident was unfolding, the Lansing Police Department utilized the Code Red system to advise residents of the situation, recommending that they stay indoors and call 911 to report any suspicious activity.

On December 2nd, Chicago PD confirmed that the Infiniti and driver were not related to the incident involved in the shooting of the Chicago Police Officer. Chicago PD will continue with their investigation of the stolen Infiniti and gun charges on the suspect taken into custody in Lansing.
The Lansing Police Department wished the Chicago Police Officer, who was shot, a quick recovery and thanked all the surrounding agencies who responded to the scene to assist in the search. The response was overwhelming with a Chicago Helicopter in the air along with approximately 150 squads from Chicago, Munster, Thornton, Dixmoor, Oak Forest, CN Railroad, Illinois State Police, and Cook County Sheriff's Police. Calumet City and Lynwood Police Department not only assisted on scene, but also helped respond to calls for service as well.
Please follow and like us: