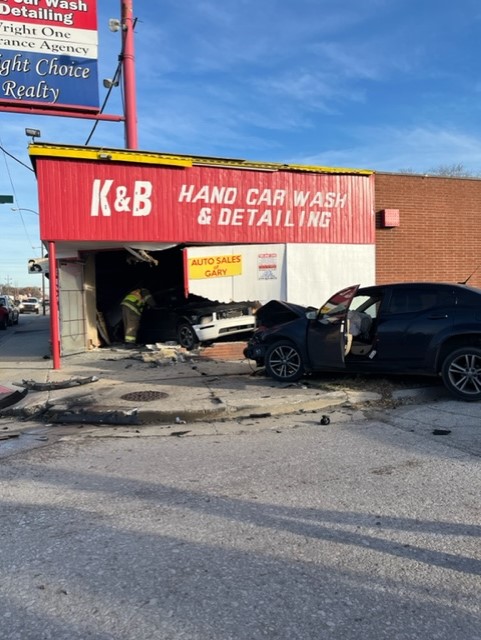 Pursuit Ends With Crash Through Building Injuring One
On Tuesday, November 23, 2021, a Hobart Police Officer observed a black Dodge Avenger in the area of 37th Avenue & Liverpool Road traveling at 65mph in a 35mph zone and then observed the vehicle making unsafe lane changes, according to Captain James Gonzales of The Hobart Police.
The officer conducted a traffic stop on the vehicle in the area of 37th Avenue & Liverpool Road and made contact with the driver. Upon further investigation, the officer found that the driver of the vehicle had a suspended license.
The officer re-approached the driver of the vehicle and told her about her driver's license being suspended and he was going to tow her vehicle. The officer started to open the door to have the driver step out of the vehicle however she placed the vehicle into drive and sped off from the officer.
Back-up officers on scene began to pursue the driver of the vehicle southbound on Liverpool Road with their lights and sirens activated. The officers followed the vehicle southbound on Liverpool to 49th Avenue and then westbound on 49th Avenue. The driver continued west on 49th Avenue to 49th and Adams Street and then turned southbound onto Adams Street. The driver drove south on Adams Street to 50th Avenue and the driver turned eastbound onto 50th Avenue. As the driver of the vehicle proceeded eastbound on 50th she attempted to go across Broadway and struck a vehicle that was traveling northbound on Broadway. The driver impacted the northbound vehicle on the driver's side of the vehicle and forced the northbound vehicle into another vehicle and into the interior of the business located on the northeast corner of 50th and Broadway. As the vehicle crashed through the front of the business, the vehicle struck another vehicle that was inside of the business. The driver of the northbound vehicle was ejected from the vehicle and landed inside of the business also. 

Both the suspect and the other driver were transported to local area hospitals for treatment. Hobart Investigators obtained a search warrant for the suspect's blood and a blood draw was conducted at the hospital. 

The driver was identified as a 26 year old female with an address listed on the 5100 block of Pennsylvania Street in Gary. Both of the vehicles were impounded from the crash scene. 

The investigation was assigned to Hobart Investigators for follow-up and charges to be presented to the Lake County Prosecutor's Office. The driver of the vehicle potentially faces charges of Fleeing Law Enforcement by Vehicle a Level 6 felony, Reckless Driving a Level 6 felony and Driving While Suspended. Additional charges or enhancements to the aforementioned charges may be pursued depending on the outcome of the toxicology results.

The Gary Police Department conducted the crash investigation and assisted at the crash scene. The Hobart Police Department thanked the other assisting agencies for their assistance. 
Please follow and like us: