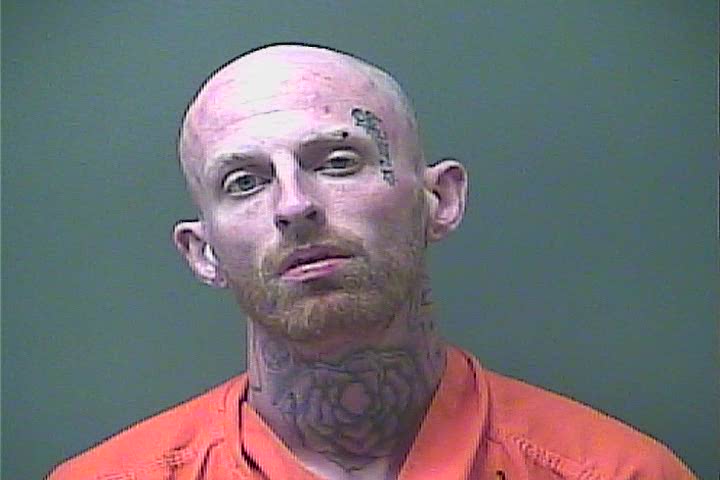 Pursuit Ends With Multiple Felonies
On December 19, at 10:30 PM, Sergeant Andrew Hahn with the LaPorte County Sheriff's Office, who had just started his Operation Pull Over (OPO) shift, was traveling west on SR 2, just west of Fail Road.  He observed an eastbound vehicle approaching him that appeared to be exceeding the posted limit of 50 miles per hour.  Sergeant Hahn activated his radar unit and obtained a reading of 71 miles per hour on the target vehicle. 
Sergeant Hahn conducted a U-turn, caught up to the vehicle as it was turning into a business at the intersection of SR 2 and Fail Road and activated his emergency lights.  The vehicle continued through the parking lot and began to travel east again on SR 2.  The vehicle traveled eastbound for a short distance before the driver abruptly braked causing the vehicle to slide sideways and come to a stop facing westbound.  Sergeant Hahn's headlights illuminated the interior of the vehicle and he noticed the driver resembled Timothy A. HOSTETLER Jr. (30 YOA) of La Porte who at the time, was wanted on felony arrest warrants.  
The vehicle began to travel westbound on SR 2 with Sergeant Hahn in pursuit.  The vehicle turned left onto Fail Road and began to travel south.  Upon reaching Division Road, the vehicle turned right and began to travel west.  On Ohio Street just east of Boyd Boulevard, Deputy Derrick Deck successfully deployed a set of tire deflation devices on the front passenger tire of the fleeing vehicle.  
The vehicle continued to flee on several city streets of La Porte with a flat front passenger tire.  In the 100 block of Graceland Drive, the vehicle drove off the roadway and traveled through heavy overgrown brush and evergreen bushes.  Deputy Austin Wells located the fleeing vehicle a short distance away.  The vehicle crashed a short time later at 18th Street and Ridgefield Drive.  The driver then exited the vehicle and entered a nearby vehicle in the 200 block of Crescent Drive.Deputy Wells deployed his Taser and successfully took the subject into custody.  The subject was positively identified as HOSTETLER.  
The vehicle HOSTETLER was operating had been reported stolen to authorities in Porter County.  The license plate, which had been affixed to the vehicle prior to the rear bumper coming off during the pursuit, had recently been reported stolen to Sheriff's Office.  
HOSTETLER was transported to the La Porte County Jail (LCJ).  He was arrested for the following offenses:• Auto Theft, L6 Felony• Theft – Prior Conviction, L6 Felony• Possession of Methamphetamine, L6 Felony• Resisting Law Enforcement, L6 Felony• Resisting Law Enforcement, A-Misdemeanor• Unlawful Entry of a Motor Vehicle, B-Misdemeanor• Reckless Driving, B-Misdemeanor• Operator Never Licensed, C-Misdemeanor 
HOSTETLER remains housed in the LCJ and is being held without bond.  
OPO patrols conducted by deputies are funded by the National Highway Traffic Safety Administration and are administered through an Indiana Criminal Justice Institute grant.  OPO patrols target impaired and dangerous drivers, along with ensuring all occupants of motor vehicles remain in compliance with seat belt and child restraint laws.   
Assisting: Captain Andy Hynek, Sergeant James D. Arnold, Deputy John Roby, Deputy Kasz Billings and the La Porte Police Department 
Arrests and criminal charges are mere accusations.  Every person is presumed innocent unless and until proven guilty in a court of law.  
Please follow and like us: