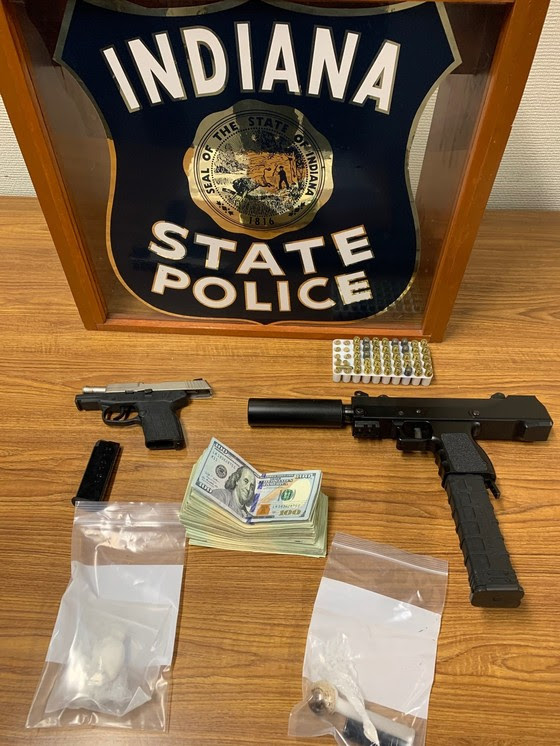 Traffic Stops Nets Felony For Meth
Tuesday morning at 10:15 a.m., troopers from the ISP Lowell Post stopped a maroon 2006 Honda passenger car on I-65 northbound near exit 240 (Lowell) for a traffic violation, according to Sgt. Glen Fifield of The Indiana State Police.
While speaking with the occupants, the odor of smoked marijuana was detected coming from inside the vehicle. During the traffic stop, other observations were made by the troopers leading them to believe that other criminal activity was taking place. A search was conducted of the vehicle and occupants. Inside the vehicle, troopers located two firearms, 23 grams of methamphetamine and a large amount of United States Currency. The firearms seized were a Kel-Tec PF9 9mm handgun and a Masterpiece Arms MPA Defender 9mm handgun.
The driver and passenger were taken into custody and transported to the Lake County Jail without incident. The vehicle was impounded at Village Motors. Arrested were Christian D. Bunch, 25, and Sarah M. Hobbs, 32, both residents of Clinton, TN. They are each being held on the following charges:
Dealing Methamphetamine- Level 3 Felony
Possession of Methamphetamine- Level 6 Felony
Possession of a Handgun Without a License- Class A Misdemeanor
Possession of Paraphernalia- Class C Misdemeanor
All persons named in this release are presumed innocent until and unless proven guilty in court. All charges mentioned are merely accusations, actual charges will be determined by the Lake County Prosecutor's Office.
Please follow and like us: