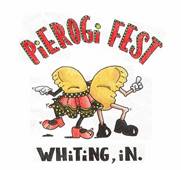 Whiting Pierogi Fest Is On!
In the hope of keeping its Chairman and Co-Founder from boredom, Pierogi Fest will be held beginning Friday July 23rd through Sunday July 25th in Downtown Whiting, officials announced Monday.
Whiting-Robertsdale Chamber of Commerce officials expressed concern that Chairman and Co-Founder Tom Dabertin might take up singing and dancing. "Have you ever seen Tom dance? At 6' 9" it's like watching a bad accident on the expressway" commented John Sopo, a past Chamber president and retired police officer. 
The festival which has won numerous national and local acclaim is one of the largest food festivals in the Midwest. "Pierogi Fest is known for its fun and safety, and our plans include measures due to Covid 19, like relocating picnic and eating areas to reduce the crowd along the main festival area. Our food vendors will be asked to take on additional sanitization to keep everyone safe" stated Tom Dabertin (who was not dancing when he said it). "As always, we want attendees to have fun and enjoy themselves, and we will offer great food and entertainment."
Pierogi Fest, one the Chicago area's largest events and organized entirely by volunteers, has earned a number of accolades including:
TripAdvisor- One of the 10 wackiest festivals on the planet
Pierogi Fest was the subject of a front-page article in the Wall Street Journal in 2015,
Named by Oprah Winfrey for five years straight as one of her favorite things to do;
Named for 16 consecutive years as the Times of Northwest Indiana's Best Festival;
A Blue-Ribbon Festival of Summer in 2013 by Yahoo.com;
The Heritage Award from the Polish National Congress,
Featured on The Food Channel, Travel Channel, Pawn Stars Chicago, Wild Chicago, CNN, and television stations in Germany, Slovakia, Poland, China and Australia,
Best of Indy Honorable Mention as best local festival even though the festival is held 165 miles from Indianapolis,
Featured on the nationally syndicated PBS Wild Travels,
It has been consistently cites as the most popular festival amongst extra-terrestrials when they are not buzzing US Navy fighter jets.
As an homage to mathematicians, this year's Pierogi Fest will be the 26th event, 25 of those events held consecutively, with one off year, plus this year's upcoming event (aren't you happy you paid attention in high school math class?).
Please follow and like us: