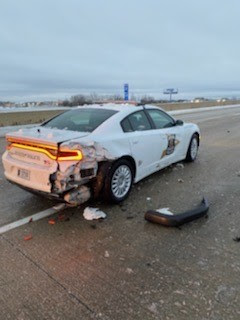 California Man Hits State Police Car Sunday
Sunday morning at approximately 6:45 a.m., Indiana State Troopers were investigating a crash on northbound  I-65 near the 249 mile-marker (Crown Point exit). 
Troopers and INDOT Hoosier Helpers were providing traffic control for a jackknifed semi that was blocking all lanes of traffic.  For no apparent reason, a 2018 Jeep swerved around a Hoosier Helper vehicle that had its emergency lights activated and drove to the far-right lane.  The Jeep then swerved back to the far-left lane before swerving again to the far-right lane where it struck a fully marked 2021 Dodge Charger that also had its emergency lights activated. 
The trooper that is assigned the Charger, was standing outside the vehicle, saw the Jeep approaching, and ran into the east ditch to avoid being struck.  He was able to avoid injury.  The driver, Hakeem A. Bahhur, 30, from Orange, California, was not injured.  During this crash investigation, troopers suspected that the driver may be impaired and attempted to administer field sobriety tests; however, Mr. Bahhur refused all tests.  A blood draw search warrant was applied for and granted by a judge with the Lake County Courts.  The blood draw was completed, and the driver was incarcerated at the Lake County Jail.  Once at the jail, Mr. Bahhur became physically combative with the jail staff.  He is preliminarily charged with Operating While Intoxicated- Endangering (Class A Misdemeanor).
All suspects are innocent until/unless proven guilty in court.  Charges listed are accusations, final charges will be determined by the Lake County Prosecutor's Office.
Please follow and like us: