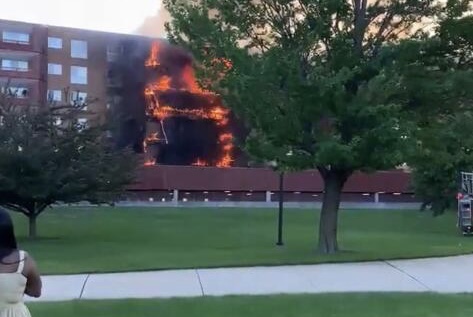 Firefighters Battle Deadly Condo Fire Monday Night
On Monday, May 30, 2022 around 7 PM, a fire started at a condo complex located at 200 Park Ave in Calumet City, according to Calumet City Fire Officials. The fire was escalated to a Three Alarm Fire with numerous departments aiding from across two states.
The fire began on the second floor, eventually climbing to the roof and attic of the building, Calumet City Fire Department said Tuesday. Multiple rescues were made on scene as crews arrived. A woman died from injuries in the fire. She has been identified as 85-year-old Wilhelmina Williamson. Four other residents and three firefighters were transported to nearby hospitals for minor injuries.
The building houses 312 units but the number of families displaced was around 80. The Red Cross was on scene assisting overnight.
The cause of the fire remains under investigation but a press conference is scheduled for this morning with more information.

Partial Coverage List From TriState Fire –
Due:
3rd Alarm on Box 11-1
4th Alarm on Box 11
Task Force Div 27
Task Force Div 22
Task Force Div 19
Chiefs:
Calumet City E-11, South Holland, Glenwood, Munster, Homewood, Sauk Village C-500, Beecher, Dolton, Country Club Hills, Lansing, Alsip, Chicago BC-24
Ambulances:
Calumet City, Thorton, Buds, Orland, Alsip, Crete Twp, Chicago Heights A-683, Frankfort A-75, Lansing, South Holland, Oak Forest, Hammond, Monee, Steger, Posen, Lockport A-1, Midlothian
Engines:
Calumet City, Homewood, Riverdale, Munster, Harvey, Hazel Crest, Lynwood, Markham, Country Club Hills, University Park, Chicago E-104, Dolton, Manhattan E-81, Palos E-10, Alsip, Flossmoor E-19
Trucks:
Calumet City T-12, South Holland T-43, Matteson T-1, Glenwood T-21, Orland T-1, Crestwood
Squads:
Park Forest S-50, Posen S-2805, Riverdale S-42
Special:
Chicago Deluge 6-7-6
COQ:
Riverdale Station 42:
Garden Homes Engine 2533
Thorton Station 45:
Beecher Engine 44
Please follow and like us: