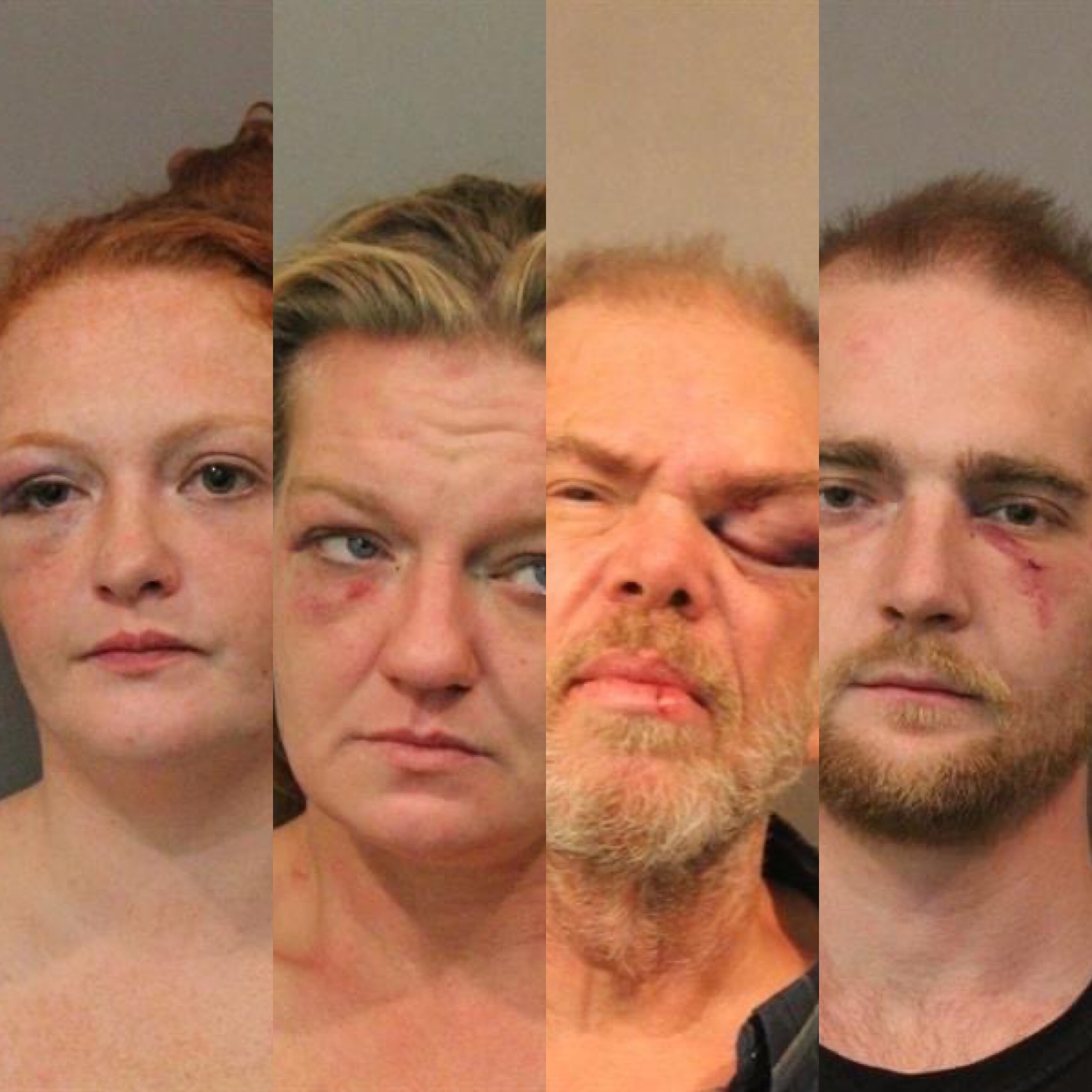 5 Arrested In Drug House After 911 Hangup
On Friday, November 27, 2020 at approximately 3:00 AM, Hobart Officers responded to 181 Fraser Lane in reference to a 9-1-1 hang-up, according to Captain James Gonzales of the Hobart Police.
Officers arrived on scene and noticed the homeowner was laying on the ground unconscious, the Officer knew the homeowner from previous overdose encounters, so he went back to his vehicle to get his NARCAN, so he could try and revive the homeowner, Gonazales told RNS. The Officer arrived back on scene and the homeowner had regained consciousness. The Officer noticed the homeowner had a welt over his eye and he was bleeding from his lip and his injuries were consistent with being battered.
A witness on scene stated that the suspect Eric Haines and the homeowner were involved in an argument and the homeowner dialed 9-1-1- and Mr. Haines then struck the homeowner on his on his face. Another witness stated that Eric had struck the homeowner too. As the Officers were conducting their interviews, Mr. Haines exclaimed that the homeowner was struck by James Rockhill, who was also inside of the residence.
Officers described the residence as having a red substance consistent with blood throughout the house, they also found used hypodermic needles and small packages with a residue of a possible controlled substance inside of them and were all located inside of the residence, Gonzales said.
The homeowner was transported to St. Mary Medical Center for treatment for his injuries.
"The Hobart Police Department has unfortunately had to respond to the residence on other occasions for overdose calls and those previous engagements the Officers interacted with subjects known to abuse controlled substances, specifically heroin. Unfortunately, this residence has been a nuisance to what is normally a quiet neighborhood," Gonzales added.
"The Officers of the Hobart Police Department have responded to the residence in the past and they continue to diligently pursue any criminal activity occurring in and around this residence, we want the Fraser Lane neighbors to know that we will continue to combat the illegal activities occurring in their otherwise tranquil neighborhood. I encourage the neighbors to contact 9-1-1 if they see any suspicious activity in or around this residence, so Officers can investigate for drug activity or any other activity that can legally be recognized as being a nuisance," Gonzales stated.
The Hobart Police Department added they do recognize that people suffer from addictions and they strive to provide resources for those who have unfortunate addictions, but their agency also recognizes that people suffering from addictions must want to take the first step to recovery. "We will always attempt to balance the needs of our residents and people suffering from addictions," Gonzales said.
The following subjects were arrested and are pending the following charges:

James Rockhill 38 years of age of Hobart: Pending charges for Battery resulting in Serious Bodily Injury and Visiting a Common Nuisance
Eric Haines 27 years of age of Hobart: Pending charges for Battery resulting in Serious Bodily Injury and Visiting a Common Nuisance
Erin Finnerty 29 years of age of Hobart: Pending charges of Visiting a Common Nuisance and Battery
Jennifer Perez 35 years of age of Lake Station: Pending charges of Visiting a Common Nuisance and Battery
Scott Smith 58 years of age of Hobart: Pending a charge of Maintaining a Common Nuisance
Please follow and like us: