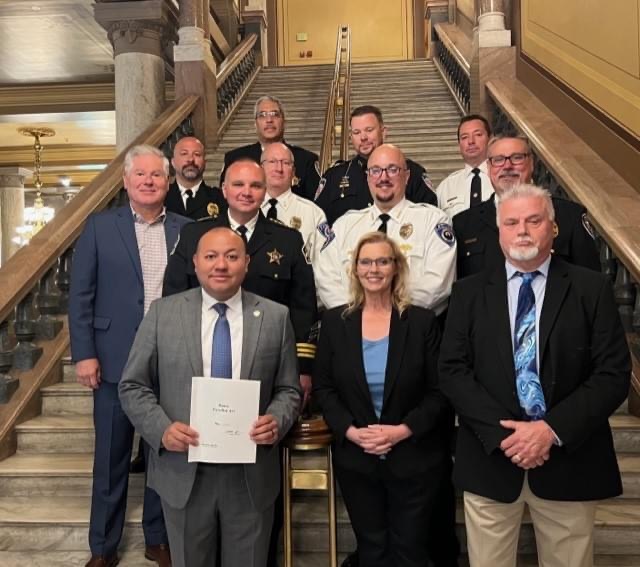 Andrade & Local Chiefs Receive Ceremonial Signing Of Bill
House Enrolled Act 1396, authored by State Rep. Mike Andrade (D-Munster), received a ceremonial signing from Gov. Eric Holcomb today after being passed by both chambers last month. The law will provide bleeding control kits to law enforcement officers throughout the state and will be funded through a donation pool administered by the Department of Homeland Security.
"I am proud that my first authored law is in service of our brave law enforcement officers," Andrade said. "Whether it's the life of a law enforcement officer on the scene or that of a bystander, my hope is that these tourniquets will save lives. I will continue to work with my colleagues in the General Assembly to equip our first responders with the tools they need to stay safe and keep as many Hoosiers as possible safe while on the job.
"Thank you to my co-authors and co-sponsors for their work on this legislation, and thank you to my local law enforcement agencies for making the trip down to Indianapolis several times in order to make the case to lawmakers for why this legislation is important. I appreciate all of your hard work in making sure that this legislation successfully made its way through the legislative process and into law."
Please follow and like us: