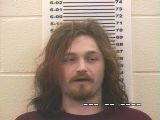 Dyer Man Arrested After Fleeing State Police
Wednesday afternoon at 3:20 p.m., the Indiana State Police Regional Dispatch Center received several 911 calls of an erratic driver southbound on I-65 south of S.R. 10.  The vehicle, a white Toyota Prius, was reported to have been speeding and driving off the roadway. 
Trooper Nicholas Isajczuk was not far away and observed a white Toyota improperly passing other vehicles on the inside shoulder.  After catching up to the vehicle, Trooper Isajczuk attempted to perform a traffic stop on the vehicle, however the driver responded by reaching out of the driver's side window, gesturing to the trooper using his middle finger, and then refusing to stop his vehicle.  The driver continued to drive south in an erratic manner, driving across all lanes of travel, driving off the roadway, swerving at police cars and driving at high and very low speeds.  During the pursuit, stop sticks were placed across the roadway and were successful in deflating all four of the vehicle's tires.  The driver continued to flee while driving on only rims at speeds as high as 60 mph.
As the driver approached the 205 mile-marker, the vehicle drove off the left side of the roadway, striking the cable barrier. Once stopped, the driver refused to exit the vehicle and had to be removed from the driver's seat by officers. Once outside of the vehicle, the driver was able to be handcuffed and later transported to Franciscan Hospital in Rensselaer for medical clearance prior to being booked into the Jasper County Jail. While at the hospital, the suspect continued to be both physically and verbally abusive to officers as well as the medical staff. As a result, additional charges may be filed by the Rensselaer Police Department.
Once medically cleared, the suspect, identified as Kevin M. Calderone, 23, from Dyer, IN, was transported to the Jasper County Jail. He is being preliminarily charged with Resisting Law Enforcement with a Vehicle (Level 6 Felony) and Reckless Driving (Misdemeanor).
Assisting at the scene were the following: Rensselaer Police Department, Remington Police Department, Jasper County Sheriff's Department, Indiana State Police Lafayette and Lowell Districts and Village Motors Towing.
All persons named are presumed innocent until and unless proven guilty in court. All charges mentioned are merely accusations, actual charges will be determined by the Jasper County Prosecutor's Office.
Please follow and like us: