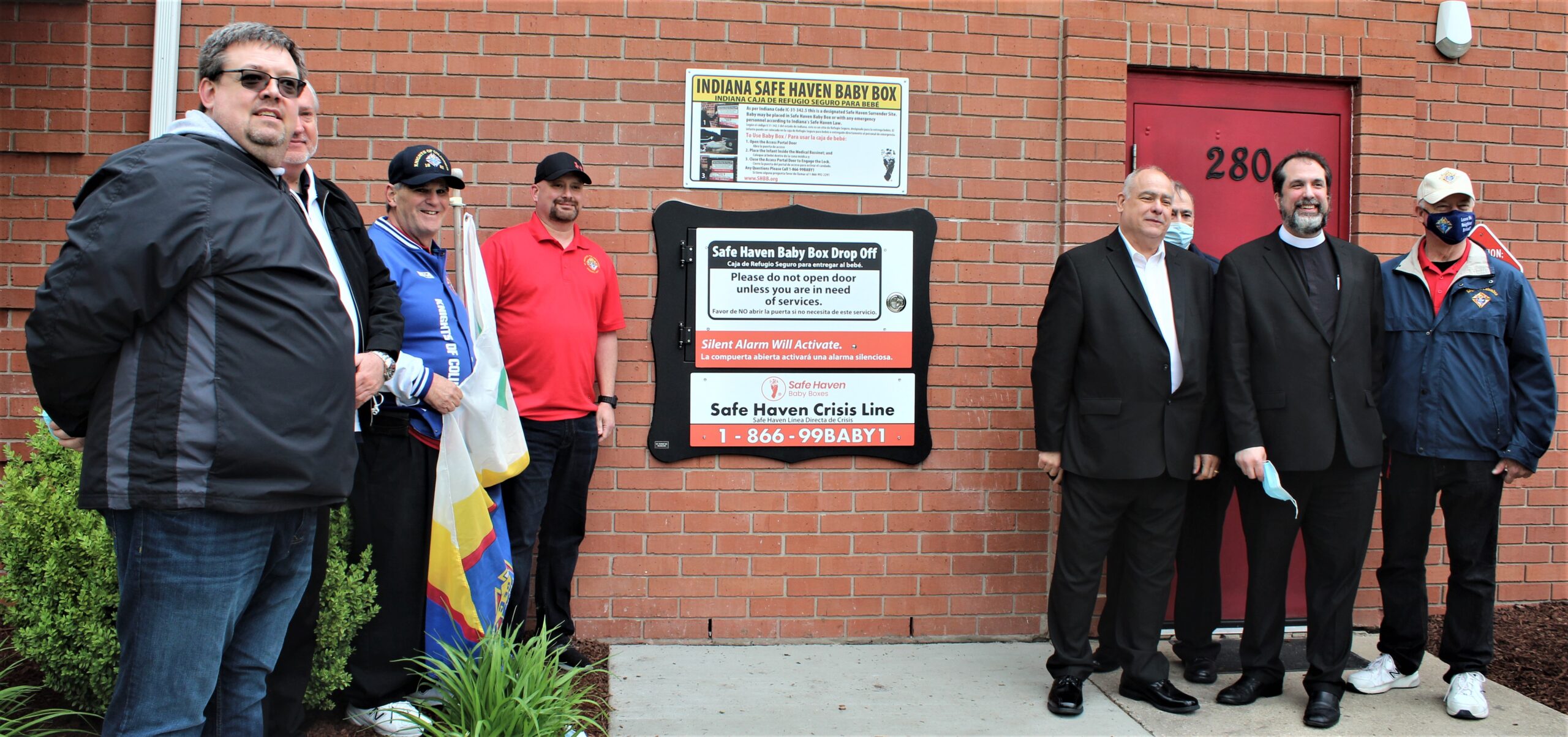 Schererville Welcomes New Safe Haven Baby Box At Fire Department
On Tuesday afternoon while gloomy and chilly outside, dozens gathered inside Schererville Fire Station Number 2 to witness the emotional heartwarming moment that Safe Haven Baby Box number 66 was presented, blessed, and put into service.

Monica Kelsey founder of Safe Haven Baby Boxes told RNS she was proud to partner with the Schererville Fire Department in becoming the 66th Safe Haven location and that there is no doubt that Schererville, Indiana is taking a proactive approach to infant abandonment.
The project was led by Colleen DeVries and the TriKappa Associate Chapter of Dyer, Schererville, St. John. Colleen told RNS that planning this during a pandemic made it more difficult as traditional fundraising events were not an option. She and her team met via picnic tables in July to start planning. They nailed down a script and began emailing and calling local residents. To their surprise, by September they had surpassed their fundraising goal of $15,000. The total amount raised was over $26,000. Colleen said they plan on using the remaining money to service the box for many years to come.

Mike Andrade State Representative District 12 spoke of how he was pleased to have been a co-author on House Bill 1032 that was recently signed into law on April 29, 2021 to expand Safe Haven Baby Boxes. HB 1032: Provides for placement of a newborn safety device at any facility that is staffed by an emergency medical service provider on a 24 hour per day, seven day per week basis provided the newborn safety device (1) is located in an area that is conspicuous and visible to staff; and (2) includes a dual alarm system that is connect to the facility and is tested at least one time per month to ensure the alarm system is in working order. Provides that a person who in good faith voluntarily leaves a child in a newborn safety device located at such a facility or fire station is not obligated to disclose the parent's name or the person's name.
Blessing of the box was led by Fr. Mick Kopil from St. Elizabeth Ann Seaton Church in Valparaiso.

Robert Patterson Schererville Fire Chief gave many thanks during the event but special acknowledgement was given to Tom from 1800BoardUp, Erin Miller; owner Alert Alarm, Chris Gonzales; Operations Manager Alert Alarm, Mike Szany; Szany Electric. All of who donated time, materials and services in preparation for the baby box.
To date Safe Haven Baby Box Organization hotline has received more than 4,000 calls from every state in the United States. They have been able to refer over 500 women to crisis pregnancy centers, assisted in 6 adoption referrals and have had at least 98 legal Safe Haven surrenders. This is the fourth box in five days within the state of Indiana to be put into service. This box marks the ninth box in Lake County and fifty seventh in Indiana.
On Sunday May 2nd at 7:05AM The Clarksville Fire Department had a healthy baby girl surrendered in their Safe Haven Baby Box. This makes baby number eleven that have been surrendered in a Safe Haven Box since they were founded in April 2016.
-Ashley Fenes – RNS
Please follow and like us: