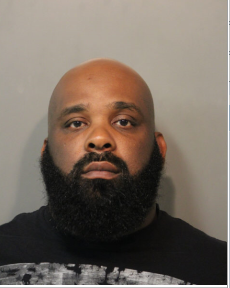 Suspect Arrested After Munster Shooting At Gas Station
On September 2, 2023, at approximately 4:00 AM, Munster Police officers were dispatched to Speedway, located at 444 Ridge Road, in reference to a fight and shots being fired.
Upon arrival, officers located a 38-year-old man who had been shot in the face. He was immediately transported to a Chicago hospital for treatment and was listed in stable condition. Detectives with the Munster Police Department's Criminal Investigations Division began their investigation and learned that the 38-year-old man's girlfriend was speaking with another male, identified as Marque L. Jackson, 47 of Chicago Ridge, Illinois.
Jackson was confronted and a physical altercation ensued. Jackson then retrieved a firearm and the 38-year-old man retreated across the street to the front patio section of Marko's Bar, located at 435 Ridge Road. Jackson then entered his vehicle, drove to this location, and fired approximately eight rounds at the 38-year-old victim, striking him in the face. Jackson then fled the scene.
The Lake County Prosecutor's Office accepted charges of Attempted Murder, Level 3 Aggravated Battery, Level 5 Battery by Means of a Deadly Weapon and Level 5 Battery resulting in Serious Bodily Injury. A warrant was issued for Jackson's arrest, and he remained at large.
On September 20, 2023, the US Marshals Service Great Lakes Fugitive Task Force located Jackson in the 2600 block of W. 85th Place in Chicago, Illinois and he was taken into custody to await extradition to Indiana.
Please follow and like us: