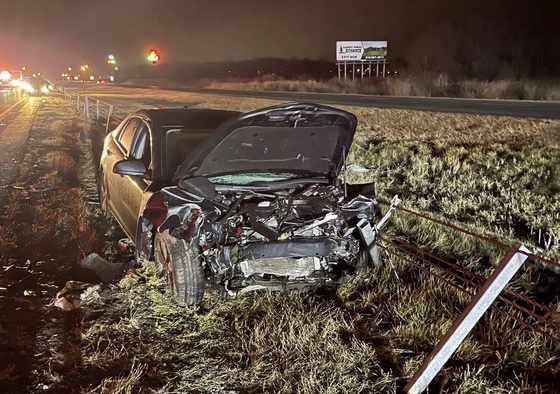 Fatal Crash On I-65 Saturday
Saturday evening, Indiana State Police responded to a multi-vehicle crash on I-65, southbound at the 229 mile-marker, according to Sgt. Glen Fifield of The Indiana State Police. 
Preliminary investigation by Trooper Nicholas Isajczuk shows that at approximately 4:54 p.m., a Toyota Solara side-swiped a Chevrolet Impala.  The Chevrolet Impala then rear ended a GMC pickup.  The Toyota then spun out of control, striking the cable barrier before traveling back onto the highway where it was struck on the driver's side by a Chevrolet Malibu.  This impact caused one of the occupants of the Toyota to be ejected, Police said. The individual that was ejected was declared deceased at the scene by the Jasper County Coroner.  Another occupant of the Toyota, Tyreek A. Brown, 22, from South Holland, IL, was transported to Riverside Hospital in Kankakee, IL, and later transported to Loyola University Hospital in Chicago for treatment of serious injuries. 
Neither occupant was wearing a seatbelt at the time of the crash.  The driver of the Malibu was transported to Franciscan Health Hospital in Crown Point for treatment of non-life-threatening injuries.  The driver of the Sierra was uninjured. 
The southbound lanes of I-65 were closed at the scene for approximately 3.5 hours for crash reconstruction and vehicle removal.
The Jasper County Coroner has identified the deceased as Timothy D. McHenry, 25, from West Lafayette, IN. 
This is an ongoing investigation to determine the cause of the crash as well as which occupant of the Toyota was the driver at the time of the crash.
Assisting at the scene were the Indiana State Police Crash Reconstruction Team, Jasper County Coroner, Jasper County Sheriff's Office, Keener Twp. EMS, Cheever's Towing and INDOT.
Please follow and like us: