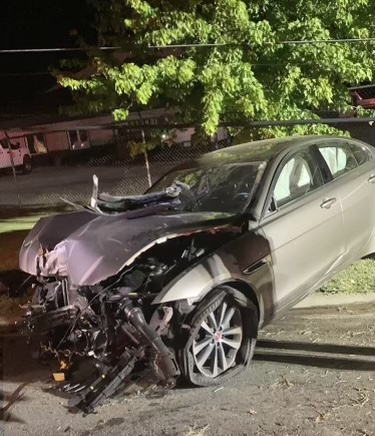 Stop Sticks Deflate Fleeing Drivers Tires Causing Him To Hit Utility Pole In Griffith
​On Thursday, June 23, 2022 at approximately 12:26 AM, Griffith Officers became aware of a vehicle that Highland Police Department Officers were attempting to stop, according to Griffith Police. The vehicle in question was allegedly driving recklessly.
​Griffith Officers learned that the vehicle was entering Griffith town limits and became aware of the suspect's possible destination due to the vehicle's registration. Griffith Officers were able to successfully deploy Stop Sticks near this location with all four of the suspect vehicle's tires striking the device, police stated.
​The suspect vehicle continued for more than 1.5 miles on deflated tires and lost control at the intersection of Main St and Colfax, striking a utility pole. The suspect suffered minor injuries. A power outage in the area was being reported by residents due to the crash.
​Identification of the suspect is pending the acceptance of criminal charges by the Lake County Prosecutor's Office.
Please follow and like us: