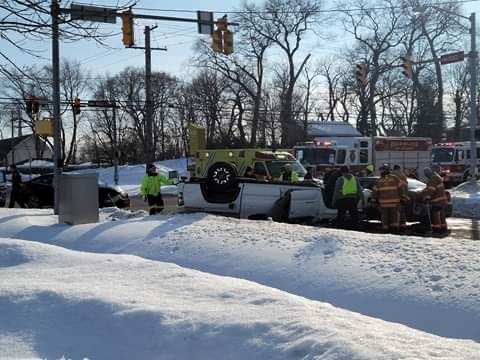 Two Accidents In Thirty Minutes On Ridge

Two accidents on Ridge Road in 30 minutes Monday with one needing minor extrication.
Around 2:45 PM Monday an accident involving a KIA Soul and a Tow Truck left the driver needing to be extricated by Lake Ridge Fire Department on the 4100 block of Ridge Road, according to Lake Ridge Fire Chief Mike Redd. Luckily it was a minor extrication only involving popping the door, officials said. The driver of the KIA was transported to a local hospital. The tow truck driver refused treatment.
The second accident involving a rollover occurred in Highland on the corner of Grace & Ridge around 3:10 PM. A white pick up was seen on its roof in the intersection. The driver was out on arrival of Fire Personnel, Highland Fire Chief William Timmer told RNS. The driver only suffered minor injuries. Highland Police were not immediately available for information on the cause of the accident. We will provide updates on this article as information is received.
Please follow and like us: