Porter County Moves To Red Level Covid 19 Guidance
Porter County is currently seeing a drastic increase in COVID 19 cases. This increase in cases is driving the county into the RED classification. ISDH defines the red classification as high community spread with a score of 3.0 as seen on the Porter County Dashboard at https://www.porterco.org/1663/COVID-19-Charts-Graphs . The high positivity rates are over taxing Porter County hospitals. Quick and swift measures must be taken to slow the spread and lower the COVID 19 cases.

Porter County Health Department (PCHD) is taking the following measures to help slow the spread. These measures are taken from Governor Holcomb's executive order 20-48. https://www.in.gov/gov/files/Executive_Order_20-48_Color-Coded_County_Assessments.pdf

First and foremost, individuals exhibiting symptoms of the virus, testing positive for the virus or exposed to a person positive with COVID 19 must stay home. It is necessary to ensure social distancing from those not living in your household, continue wearing face coverings, practice regular handwashing and eliminate social gatherings. PCHD strongly discourages gatherings with anyone not in your household, this includes at bars and restaurants, before and after sporting events, before and after services of faith and getting together with friends.

Understandably, this will be difficult, but family gatherings for birthdays, weddings and even Thanksgiving are strongly discouraged. Because of this, PCHD is not permitting any gatherings over 25 people. Any events planned in Porter County must contact PCHD to discuss safety protocols.
In addition to limiting gatherings of family and friends, it is necessary to limit the number of spectators at K-12 sporting events. At this time, PCHD is limiting spectators to parents/guardians/siblings only who are seated socially distant from others. Concessions must be closed and water should be provided to participants only. Masks must be worn at all times by anyone not participating in strenuous activity. Staff or volunteer monitors should be assigned to ensure compliance.

As set forth in the Executive Order, businesses are required to place clearly visible signage at their public and employee entrances notifying that face coverings are required for all individuals entering the business. Businesses shall require employees to wear face coverings, and should only admit those customers, clients, vendors and other visitors who wear face coverings unless exempted.

As also included in the Executive Order, restaurants, bars, taverns, nightclubs and other establishments providing in-person food and/ or drink service must adhere to the following directives:
All patrons must remain seated while consuming food and/ or drink or when otherwise remaining on the premises; and
While capacity limits are no longer based on a percentage of overall occupancy, seating must be arranged and maintained so that individuals, households, or parties are spaced at least six (6) feet apart from any other individual, household or party.
Self-service beverage and food stations (buffets, salad bars, etc.) are permitted but not recommended unless a staff member serves patrons.

PCHD will continue to evaluate the sources of positive tests and conduct targeted testing where appropriate. Reducing the spread is a community wide task. All Porter County citizens must commit over the next several months to take measures to reduce the community spread of COVID 19.
"I am encouraged that the Porter County community understands the gravity of this disease and is working together for the common goal of saving lives and slowing the spread of COVID," said Health Officer Dr. Maria Stamp.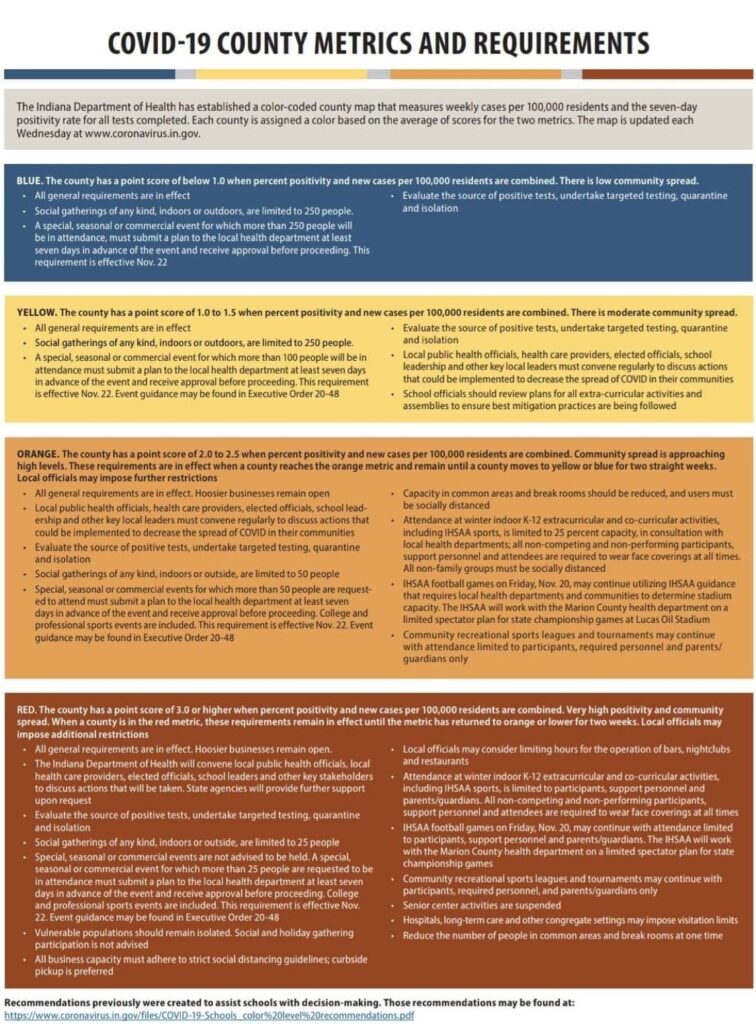 Please follow and like us: