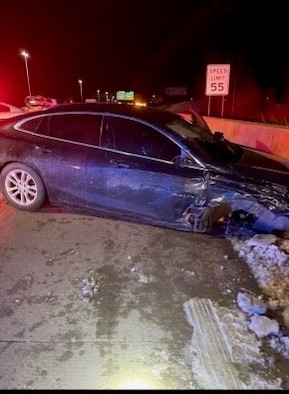 Man Jumps Into Little Cal River After Police Chase
On Saturday, February 18, 2023 at approximately 1:30 AM, Indiana State Trooper Hieb was patrolling on I-80/94 when he observed a dark color Chevrolet traveling eastbound from Kennedy Ave. without any headlights. Trp. Hieb attempted to perform a traffic stop on the vehicle; however, the driver accelerated away, and a pursuit was initiated.
The vehicle continued eastbound where it struck the median wall. As the trooper exited his patrol car to arrest the driver, the driver was able to turn the vehicle around and began to travel westbound in the eastbound lanes. The trooper then saw the driver make another U-turn and go back eastbound again in the eastbound lanes. The vehicle crashed a second time, rear-ending another vehicle near Broadway, when the driver exited the vehicle and fled on foot. Trp. Hieb continued to chase the suspect when the suspect jumped into the Little Calumet River and attempted to swim away. Trp. Hieb was able to go to the south side and retrieve the suspect from the river and place him in handcuffs. Once handcuffed, the suspect continued to resist, and several times attempted to crawl back into the river. Paramedics were contacted to treat the suspect for exposure to the cold elements as well as for injuries sustained in the crashes.
The suspect was transported to a local hospital for treatment. While at the hospital being treated, the suspect was able to gain access to hospital shears. Before he was able to cause harm to himself or others, Trp. Hieb was able to disarm the suspect. The suspect was later transferred to a hospital in Chicago for treatment of a facial injury sustained in the crash.
Trp. Hieb will be filing several charges against Iren L. Walker, 31, from Chicago, IL, to include the following:
Resisting Law Enforcement with a Vehicle- Level 6 Felony
Resisting Law Enforcement- Class A Misdemeanor
Operating While Intoxicated- Class A Misdemeanor
Reckless Driving- Class B Misdemeanor
Failure of Duty at a Crash- Class B Misdemeanor
Possession of Marijuana- Class B Misdemeanor
Operating While Intoxicated- Class C Misdemeanor
Please follow and like us: