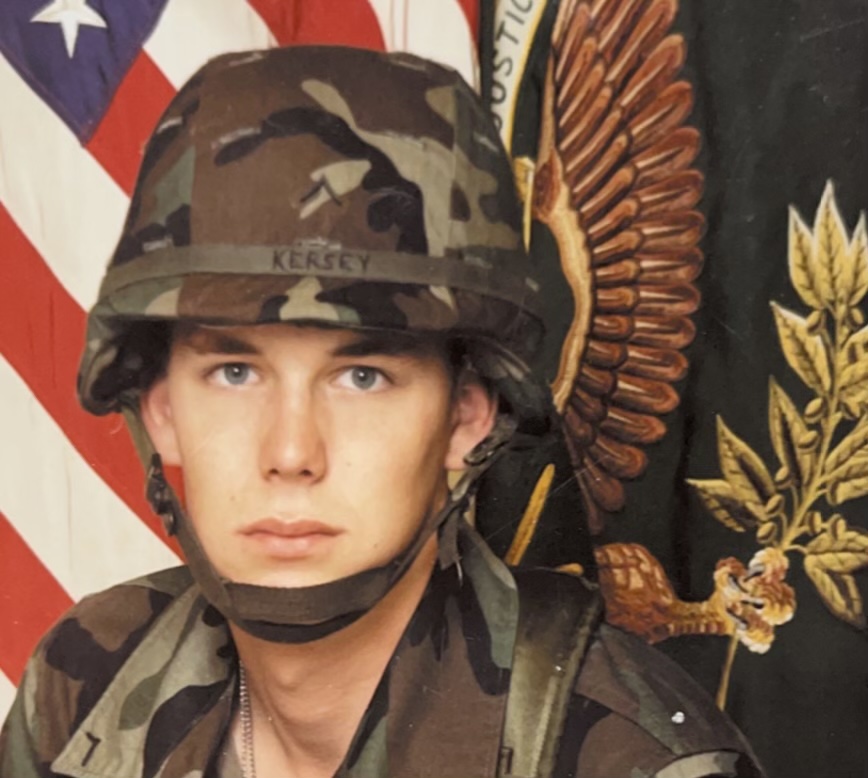 Arrangements For Lt. Bryan Kersey
Lt. Bryan K. Kersey, age 56, of Wheatfield, IN, passed away on Thursday, January 20, 2022 after a long battle with cancer.
A police escort consisting of multiple agencies from the across the region including The Lake County Sheriff Helicopter arrived to Kersey's home in Wheatfield to escort him to Geisen Funeral Home in Crown Point.
Bryan is survived by his wife, Vickie (nee Lawson) Kersey; two children: Ashley and Justin Kersey; mother, Shirley (nee Plants) Kersey; sisters: Carla (Phillip) Kaiser, Tammy (Michael) Morrone, Kimberly (Jerry) Luebcke and many nieces, nephews and great-nieces and great-nephews. Bryan was preceded in death by his father, Orville Kersey.
Bryan proudly served as an MP Corp in the U.S. Army from 1985-1996 and served in Germany during Desert Storm. He worked for the Schererville Police Department for 8 years and was a Lieutenant at the Lake County Sheriff's Department for 18 years.
"Lt. Kersey was an outstanding police officer who represented the Lake County Sheriff's Police Department with pride and distinction," Lake County Sheriff Oscar Martinez Jr. said. "He was a skilled traffic reconstructionist, and also earned nearly a dozen commendations for his exemplary performance with various cases from auto theft to the apprehension of fleeing suspects."
Outside of work Bryan enjoyed coaching Girls softball and local baseball teams in Crown Point. Bryan also enjoyed camping and spending time outdoors with his family and four beloved fur-babies. He loved helping other people.
Kersey was an active member of the FOP Lodge 125. "Bryan and his family were always working our fundraisers and participating in our charitable causes," the FOP said Thursday. "A Christmas never went by without the Kersey family shopping, making and delivering Christmas dinners for the needy."
Bryan was loved by many and will be greatly missed.
Friends may visit with the family on Thursday, January 27, 2022 at Geisen Funeral, Cremation & Reception Centre, 606 E. 113th Ave., Crown Point, IN 46307 from 2:00 PM to 8:00 PM.
Funeral Services will be DIRECTLY at St. Matthias Church, 101 W Burrell Dr. Crown Point, IN on Friday, January 28, 2022 at 10:00 AM with Fr. Jerry Schweitzer officiating.
In lieu of flowers, donations may be given in Bryan's name to Mission One, a foundation that helps Veterans in need; Chopper Coppers MC, who help support law enforcement families or Unity Hospice.
Please follow and like us: